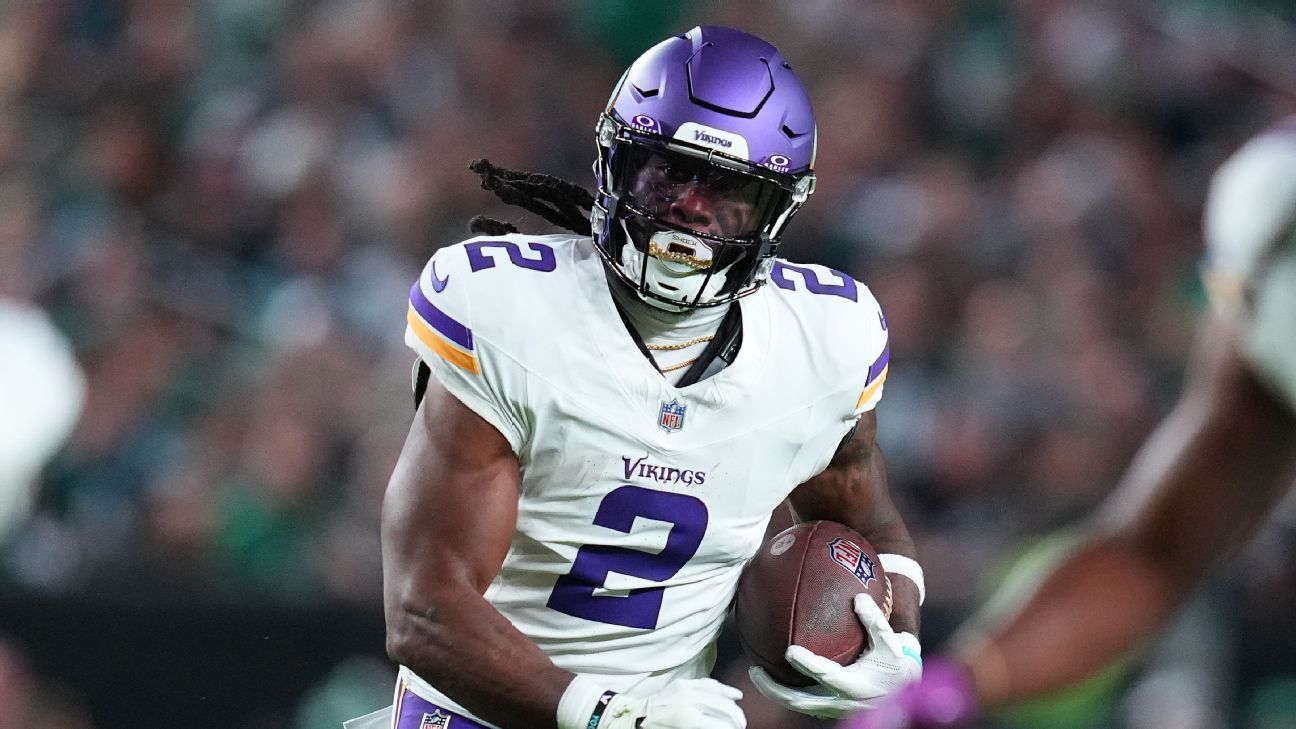 Minnesota Vikings running back Alexander Mattison said early Friday morning that he received more than 60 "disgustingly disrespectful messages" through his Instagram account, including several that used the N-word and other slurs, after the team's 34-28 loss to the Philadelphia Eagles.
Mattison, who rushed for 28 yards on eight carries and lost a first-quarter fumble, posted two of the messages on his Instagram story. Both called for him to commit suicide.
"Y'all can come at me all you want about fantasy and 'you suck' blah blah blah," Mattison wrote on Instagram. "I really could care less. But this s— is unacceptable."
Mattison went on to say that he hopes those who sent the messages reflect on what "you say and how it could truly affect someone. Under my helmet, I am a human, a father, a son. This is sick."
Vikings coach Kevin O'Connell said he spoke Friday with Mattison to check in on him.
"I know this is not just an isolated incident just from last night for Alex and other professional athletes alike," O'Connell said. "I just don't see that there's any place for it. Racism has no place regardless of how upset someone may be with fantasy football output or a player's performance.
"It's just unacceptable in any way, shape or form really in our society, but especially in regards to the treatment of professional athletes and our players. I'm fully behind Alex, and I know his teammates are as well."
The Vikings and the NFL both issued statements of support Friday afternoon via X, formerly Twitter.
"We are sickened by the hatred and racial slurs directed toward Alexander Mattison following last night's game," the Vikings said in the statement. There simply is no room for racist words or actions in sports or society. The Vikings will continue to fight to eliminate hate, to educate and to foster a diverse, equitable, and inclusive community that respects and values our unique backgrounds. We stand with Alexander and all players who, unfortunately, experience this type of ignorant and prejudicial behavior, and we ask our fans to continue to fight to eliminate racism."
We are sickened by the hatred and racial slurs directed toward Alexander Mattison following last night's game. pic.twitter.com/cdCRbxipr6

— Minnesota Vikings (@Vikings) September 15, 2023
The NFL said it "strongly condemns" the racist comments, calling such behavior "completely unacceptable in the NFL or anywhere else."
"We stand firmly with Alexander and remind fans to remember the humanity of all players and celebrate their contributions to the game we all love," the league said.