Yen Press
Mystery and manga go together like pumpkin spice and warm boba tea (you can thank me later). Manga is already a popular choice as a medium for storytelling; it is distinct from Western comic books in both the art and the development of the story arcs. That's what makes it such a perfect fit for the mystery genre. Think of the classic mystery movies. The best were filmed in black-and-white, creating a stark contrast with the imagery and building an atmosphere without distraction. Even when colour is added, muted palettes still work best.
Mystery manga also knows how to develop a great story arc. It's all about the questions and how well you can pace the answers. Traditionally, manga originates in serial form, with each chapter published fairly regularly. For me, it's very akin to the serial nature of mystery stories from the "golden era:" Agatha Christie, Nancy Drew and yes, Sherlock Holmes. Each week brought another mystery, but it was all part of the bigger picture. 
For fans of the mystery genre, manga has a lot to offer. Check out these new mystery manga, each with its own blend of storytelling and character arcs. Some are mixed with horror; others have a touch of supernatural. All of them have plenty of questions to keep you guessing.
New Detective Mystery Manga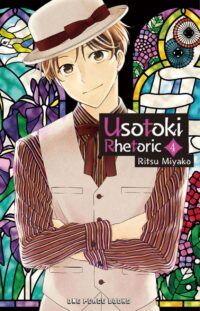 Usotoki Rhetoric by Ritsu Miyako
Dive into this historical detective mystery set in 1926. It is the beginning of the Showa Era and the golden age of detective stories. Urabe Kanoko has been ostracised by her hometown because she has the ability to hear lies. She has nowhere to go and no one to trust until she arrives in a town called Tsukumoya. When Detective Iwai Soma finds Kanoko, he sees her skill as the gift he needs to rebuild his business and lift himself out of poverty. As the characters learn how to work together, the story itself flows between mystery and human psychology. Exactly how does one prove someone is lying? The eagerly anticipated Volume 4 is scheduled to be released on September 26 and includes a special short with a retro-modern back-alley tale of mystery.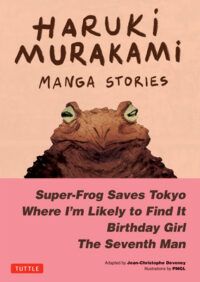 Haruki Murakami Manga Stories 1: Super-Frog Saves Tokyo, The Seventh Man, Birthday Girl, Where I'm Likely to Find It by Haruki Murakami, art by PMGL
For the first time, Murakami's renowned work is adapted into manga, and it is glorious! The first volume includes one of my favourite detective (albeit obtuse) mysteries, "Where I'm Likely to Find It". An unnamed private investigator is hired by Mrs. Kurumizawa to find her missing husband. He somehow went missing between his mother's apartment and their own: a grand total of two flights of stairs. Murakami's style is a blend of realism and fantasy, often centred on our own confusion in the world around us. There are three volumes scheduled to be published over the coming months, so keep your eye out for Murakami magic next year!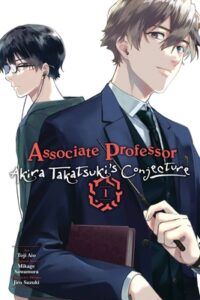 Associate Professor Akira Takatsuki's Conjecture by Mikage Sawamura, art by Toji Aio, lettering by Arbash Mughal, translated by Katelyn Smith
Fresh off the August press, this light-academia mystery manga simply calls to me. Naoya Fukamachi, a university student, is an infallible walking lie detector. His recent paper about a strange festival from his childhood caught the attention of his folklore studies professor, Akira Takatsuki. Akira is rather eccentric and considers himself a "paranormal detective." Naturally, he thinks Naoya is the perfect research assistant to be in charge of "common sense."  It's an odd coupling, but Akira clearly needs Naoya and his special skills to help him interpret an array of unexplainable phenomena. Volume 2 is scheduled for release on November 21.
New Mystery Manga with a Touch of Horror
Mimi's Tales of Terror by Hirokatsu Kihara, Ichiro Nakayama, art by Junji Ito
Fans of Junji Ito will instantly recognise the blend of horror-mystery with this collection of stories based on urban legends. Mimi and her boyfriend Naoto encounter multiple mysteries in their neighbourhood, from strange black-clad ladies in the neighbourhood to red circles pained in the basement that seem to move each day. Some are short short stories, while others build a bit more anticipation. While they are all mysteries, each of them has Ito's famous horror twist as a manga adaptation. This one is scheduled for release on October 24.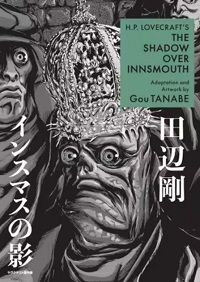 H.P. Lovecraft's The Shadow Over Innsmouth (GN) adaptation and artwork by Gou Tanabe
Tanabe has built quite a rep for adapting H.P. Lovecraft classics into manga form. This latest is scheduled for release in November and is possibly the most anticipated yet. The Shadow of Innsmouth is a huge project to undertake, a horror mystery from the only story published as a book during Lovecraft's lifetime. Set on the isolated coastal settlement of Innsmouth, Massachusetts, a town raized by U.S. government agents in the winter of 1927-28. All of the residents were taken away to incarceration camps, never to be heard of again. Or so it was thought until a young antiquarian travels to Innsmouth and finds the town very much alive. (Looking for more books like Lovecraft without the racism? Try these cosmic horror books that reject Lovecraft's racism and antisemitism.)
The Goal is to Stay Alive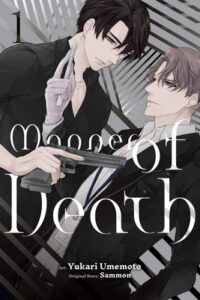 Manner of Death by Sammon, art by Yukari Umemoto, translated by Emma Schumacker, letters by DK
When Dr Bunnakit is called to examine an apparent suicide, he instead discovers evidence of foul play. However, somebody doesn't want that information to be released. First, there's the break-in with a stranger demanding Dr Bunnakit declare it as suicide. Then there's the mysterious disappearance of his prosecutor friend almost immediately after Dr Bunnakit shared his suspicions. Dr Bunnakit is determined to find out what is going on, even if it means working with the prime suspect, Tan. Volume 1 was released in May 2023, leaving great anticipation for Volume 2 and its scheduled release on September 19, 2023. It's an adaptation of an original story and Thai TV series by Sammon, perfect for fans of new manga mystery with LGBTQIA+ characters.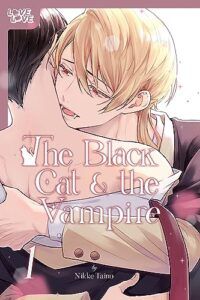 The Black Cat & The Vampire by Nikke Taino
This brand-new soft-mystery supernatural manga is good enough to sink your teeth into. Rumours are rampant that there is a vampire hiding in the all-boys boarding school, Blanc College. Yuki Hasegawa is too busy studying to take notice of silly rumours, but he is also smart enough to see the clues around the school. He has his suspicions, yet nothing seems to fit the typical image of a vampire. There is enough mystery here to keep you looking in every crook and cranny for the next tasty clue. Volume 1 is scheduled for release on October 10, with Volume 2 coming soon in December.
Super New Mystery Manga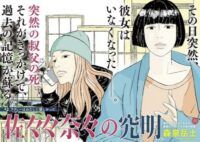 Sasasa Nana no Kyūmei (Nana Sasasa's Investigation) by Takehito Moriizumi
To be fair, this isn't the newest mystery manga. However, the upcoming October chapter of Nana Sasasa's Investigation is the final closure of this captivating mystery manga. And if you like to read your manga in full completion, then this is definitely the newest mystery manga for you. The story centres on Ruru Sasa, a uni student, and her sister Nana, a mystery writer. After their uncle passed away a month ago, Ruru found a painting of her uncle's companion, Avie, who disappeared many years ago. Upon seeing the painting, Ruru has a sudden flash of memories previously buried away in her mind. The series has been published exclusively in Big Comic Original Zōkan since April 2022 (in Japanese); however, here's hoping it will be picked up for publishing very soon.
---
Still looking for more mystery manga? Fellow Book Rioter Vernieda has 10 Mystery Manga to Investigate and Unravel, including the absolute classic Pluto by Naoki Urasawa. Think Astro Boy meets Do Androids Dream of Electric Sheep? and that's just the beginning of this wild ride.