This content contains affiliate links. When you buy through these links, we may earn an affiliate commission.
Between you, me, and the fantasy section at my local bookstore, mythpunk books are definitely my jam. It's right there on the label: a blend of mythic fiction with a post-modern makeover. Catherynne M. Valente coined it first and, to be fair set a pretty high benchmark. Her novel Deathless gave us an epic variation of Russian folklore. The revolution of Stalinist house elves was a better history lesson for me than anything covered at school. At the time, Valente didn't think much of her throwaway comment, but 'mythpunk' really did work as a sub-genre term for folklore-based fantasy with a rebellious streak.
Mythpunk books are not simply a retelling of our favourite tales. It's more about taking the spirit of the story and allowing it to breathe in a post-modern setting. Often, this brings out a subversive twist on things. These aren't your standard myths and folk tales meant to teach kids how to follow societal norms. Oh no, we're done with that shit. Mythpunk confronts those norms head-on. Where once we had stories with a built-in pale/stale/male gaze (yep, I'm using that phrase again), now we have stories that fact-check the cast and rewrite the script to be more inclusive. 
If you like Percy Jackson, if you loved The Sandman, then you are definitely a Mythpunk rebel.
These are not your standard fairy tales, and there is no guarantee of a happy ending for society as we know it.
No Room for the Meek in Greek Mythpunk Books
Rick Riordan did a hell of a job with his mythpunk approach in the Percy Jackson series. Bringing in a younger generation of heroes already facing their own differences with neurodivergent behaviours allowed kids all around the world to reclaim at least one aspect of their lives. As the series grew, so did the opportunity to question the Gods, which was also symbolic of questioning the so-called leaders in society. Better still, Riordan actively encouraged more writers in this field, increasing the diversity of both authors and the mythology behind the stories. However, Riordan is not the only one giving a rebellious streak to Greek Myths.
Lore by Alexandra Bracken
The Agon takes place every seven years. It is Zeus's punishment to the nine gods who dared to oppose him during an attempted uprising. Each of the nine is sent to Earth as a mortal and hunted by the descendants of ancient bloodlines to the death. Melora (aka Lore) wants nothing more to do with the Agon. She is the last of her family and was once a Hunter herself. But when Athena turns up bleeding and asking for help, Lore will be dragged back into this bloody world and learn more about the uprising of both gods and mortals.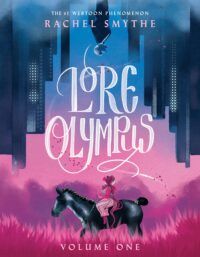 Lore Olympus by Rachel Smythe
A retelling of Hades and Persephone with a post-modern twist. This graphic novel is initially published online with four published volumes available; volume 5 is scheduled for release on October 3, 2023. This retelling of The Abduction of Persephone uses the duality of settings to bring in some rather confronting issues. Warning: the story includes rape, harassment, abuse, and trauma. While the mortals exist in the time of the original myths, the gods live in a post-modern setting with technology and slightly more contemporary social norms. In this world, Smythe gives Persephone more agency over her story and directly confronts the power play amongst the gods. It's refreshing to read when you see how gender, sexuality, and class impacted the hierarchy of gods, both then and now.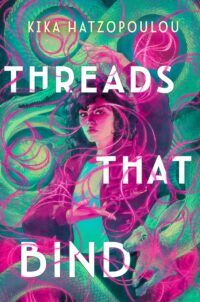 Threads That Bind by Kika Hatzopoulou
Three sisters are descendants of the Greek Fates, who inherit their powers and their responsibilities: one to weave, one to draw, and one to cut the threads. Io, the youngest, uses her Fate-born abilities as a private investigator in the half-sunken city of Alante. Her latest case: somebody is abducting women, maiming their life-threads, and setting the resulting wraiths loose in the city to kill. When Io finds her estranged older sister on the arm of the most likely suspect, Io discovers there are far greater threads to unravel and conspiracies to unfold.
For more Greek myth retellings, Lyndsie looks at the lack of Greek writers in Greek Myth retellings with a list of her faves who meet the criteria here.
Not the Fairy Tales Your Parents Told You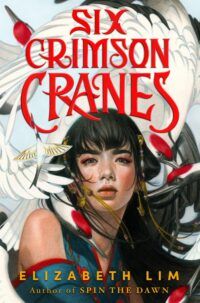 Six Crimson Cranes by Elizabeth Lim
This has all the feels of The Wild Swans, a fairy tale by Hans Christian Andersen. Shiori's timing is impeccable. On the day of her betrothal ceremony, Shiori accidentally revealed her forbidden magic. What she thought was a stroke of luck ends up being a convenient excuse for her stepmother, Raikama, to banish Shiori and turn her brothers into cranes. As a final cruel touch, Raikama warns if Shiori ever speaks of this to another, her brothers will die. One for each word to escape her lips. Where once she was the only princess of Kiata, Shiori is now penniless, voiceless, and hopeless. While she searches for her brothers, Shiori discovers a conspiracy to take over the throne. Only Shiori can set the kingdom right, and she needs help from the one she tried to avoid all along: her fiance.
Cinderella is Dead by Kalynn Bayron
Cinderella's story is often held as the fairy tale romance, giving every female the chance to shine and catch the eye of her Prince Charming. Two hundred years later, Cinderella is dead, and the legacy that remains is built on a heteropatriarchal monarchy that allows the men all the rights and the women all of the pain. Sophia doesn't want any of this. So, she runs and finds herself in Cinderella's mausoleum. Here, she meets Constance, the last descendant of Cinderella, who knows more about the history of Cinderella and especially how twisted it has become. Together, they are going to take down the monarchy and show the world what a real fairy tale ending is all about.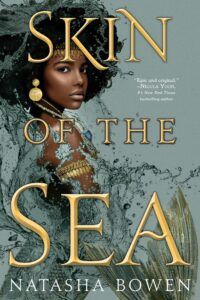 Skin of the Sea by Natasha Bowen
A blend of Yoruba/West African mythology and mermaid fairy tales. The Mami Wata are sort of like mermaids but attached to the passage of souls — but only those who die at sea. Simi is one of them, though she doesn't quite remember how she became. When she sees a live boy thrown overboard, Simi unintentionally starts a revolution of the Old Ways and the relationship between gods and mortals. Bowen does not shy away from the discussion of slaves and their horrible treatment on many journeys across the seas and away from home.
Fairy tale retellings are always popular, and Anne Mai Yee Jansen has more to share here.
Mythpunk Books Inspired by Asian Magic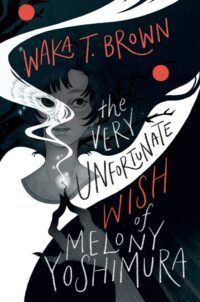 The Very Unfortunate Wish of Melony Yoshimura by Waka T. Brown
Melony Yoshimura's parents have always been overprotective. To reinforce their own fears, they would often tell Melony stories about the Amanjaku, a demon spirit who preyed on small children in Japan. But it means nothing to Melony, who sees it all as restrictive and suffocating. On her 12th birthday, Melony wishes for freedom and adventure, and the Amanjaku appears and promises to grant her wish. But Melony wasn't aware of the price. She slowly realises that she is giving up her life to the Amanjaku and now must fight to take it all back. This is a great middle grade book that addresses the divide between old folklore and post-modern norms.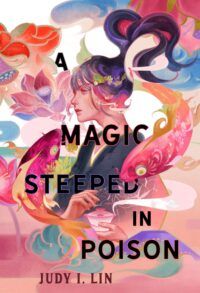 A Magic Steeped in Poison by Judy I. Lin
Everyone knows there is great magic in a good cup of tea for those who know how to wield it. Ning thought she did, but her mistake killed her mother, and now threatens to do the same to her sister. Ning believes her only chance is to compete with the masters of the ancient art of tea-making and win a favour from the princess. Steeped in Chinese mythology and the traditional art of tea brewing, this story adds a dash of punk to its hero. Ning's path must blend traditional ways with her more contemporary views.
Fans of Asia-inspired fantasy books will rejoice with Rey's list of 12 more books here.
---
There are many more opportunities to explore mythpunk books over the coming months. Keep an eye out for Gwen & Art Are Not In Love by Lex Croucher, shaking up the Arthurian legend with an honest queer perspective, thus changing the course of history. It's due to be released on November 28, 2023, and I am absolutely here for a medieval rom-com with a happy ending!