This content contains affiliate links. When you buy through these links, we may earn an affiliate commission.
All genre fiction has its tropes (though honestly, all literature has its tropes). As readers, we have expectations that certain genres will have certain beats. Murder mysteries especially have an abundant amount of tropes, thanks to the sheer quantity of subgenres, from cozies, detective novels, and thrillers. These tropes help to establish characters or themes without a lot of legwork or boring backstory.
Sometimes, an author will break with tradition, which can be exhilarating as they take the genre into new territory or use it as a commentary about the genre itself. But sometimes, it can also be really annoying, especially when the break of a particular trope can launch a book from one subgenre into another. Read enough GoodReads reviews and a constant complaint about a book is that it wasn't what it claimed to be.
Some tropes make for delightful reading, while others can make the reader grow frustrated. Some tropes may even result in instant DNFing, depending on how much one dislikes or feels triggered by a particular trope. As a longtime lover of murder mysteries, I've thought a lot about what tropes I adore and gravitate towards and the tropes that make me sad or even angry. I'll give examples of books that do these tropes well but not the latter, unless the book manages to do something new with the trope.
Here are the best and worst tropes in murder mysteries.
Best: Locked Rooms/Isolated Murders  
This has to be my number-one favorite trope. There's something about limiting people's options, whether it's an impossible crime or restricting the number of possible suspects in a tight, confined place. People's tempers get frayed, secrets come out, and it makes for delicious reading. It's also delightful to see how the crime was done.
Examples include Gigi Pandian's Under Lock and Skeleton Key, Lucy Foley's The Guest List, and Dann McDorman's West Heart Kill.
Worst: Making a Locked Room Too Complicated
But with great power comes great responsibility. I love locked-room mysteries, but the author can make the mechanics of the locked room too complicated. Too much technical detail or too much focus on maps can really take the fun out of the mystery. It's a delicate balance, to be sure, but I don't want too much time spent on the angles of bullets.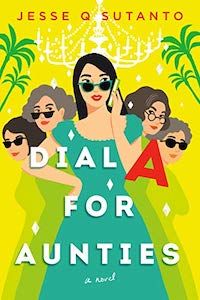 Best: It Was Self-Defense (or Intentional); Can You Help Me Hide the Body?
While there are definitely songs and movies where women (usually) have to deal with a dead body, I'm loving this trope in mysteries. The main character, usually a woman, gets herself into a pickle, whether she accidentally kills someone or means to do it. Then, she has to rely on her friends and/or family to get her out of the mess. Many books using this trope are really funny as the main character gets herself into ridiculous situations, and then she has to figure out how to get out.
Examples include: Jesse Q. Sutanto's Dial A for Aunties and Elle Cosimano's Finlay Donovan is Killing It.
Worst: The Default Victim is a Woman
Conversely, we've had more than enough books where women are the victims. These women tend to be nonentities, just a body and fuel for the detective (often male) to find the murderer. The focus tends to be on the men in the victim's life. It's not that all murder victims need to be any one gender, but some authors can lean on this trope, which feels lazy, misogynist, racist, etc.  However, the trope can be used positively to comment on how problematic this obsession with women as victims (often white) is. See Joseph Knox's True Crime Story and  Kellye Garrett's forthcoming Missing White Woman (publishing 5/9/2024).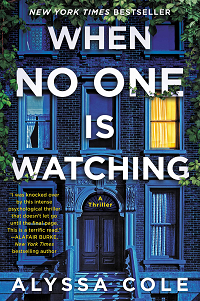 Best: Using the Mystery to Comment on Ills of Society
Mysteries in all subgenres are now talking even more about societal issues like gentrification, domestic abuse, police brutality, and more. I'm really loving this trend, especially in cozies. While yes, cozies have certain genre expectations, I like that I'm seeing some cozies lightly commenting on issues like housing shortages or mental health. Sometimes, a softer touch on a message can really make the difference in that idea being accepted.
Examples include: Alyssa Cole's When No One is Watching, Mia P. Manansala's Arsenic and Adobo, and Oliva Blacke's No Meme of Escape.
Worst: Using Mental Illness, Race, Gender Identity, or Sexual Orientation as the Villain
There's sadly a long history in mysteries where the villain is overtly or coded as trans, gay, or suffering from some mental ailment. It's harmful for everyone, and it's lazy. There are better ways to create villains out there without throwing communities under the bus. Mystery writers need to work on developing rounded characters instead of leaning on tired, hurtful tropes. I don't think I need to give examples of this since it's prevalent in the history of mysteries.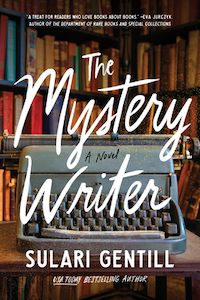 Best: Breaking the Mold
So this is kinda the anti-trope. I love when mystery authors play with the mystery genre as a whole, like Sulari Gentill's works. For instance, Gentill's forthcoming The Mystery Writer (3/19/2024) explores conspiracy theories and the publishing world. The Woman in the Library deals with the writing process, realism in books, and collaborating with other writers. These types of books can be about the process of writing, sometimes even breaking the fourth wall with the reader. I love how these books are turning the proverbial magnifying glass onto the genre itself and coming up with fascinating stories and theories. 
Other examples: Alex Pavesi's The Eighth Detective, Stu Turton's The 7 1/2 Deaths of Evelyn Hardcastle, and, once again, Dann McDorman's West Heart Kill.
Worst: The Detective Falling for the Murderer
I'm seeing this one more and more these days. Basically, the detective, whether official or an amateur, gets really close to someone and then later discovers that the person is the murderer. I understand it adds a level of tension by upping the stakes, but it's icky and manipulative of both the detective and the reader. But the trope of the detective falling for the person suspected but later exonerated of the crime is A-OK.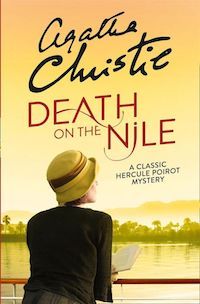 Best: The Detective Makes the Big Reveal
Yes, it's totally cliche, but I love the detective gathering all the suspects together and explaining exactly whodunnit and why. It's nice and neat, which is one of the reasons I love reading murder mysteries. I want to feel like there is a little bit more justice and reason in the world. I want to know who and why the murderer decided to take their actions. Examples include Agatha Christie's Death on the Nile and Nero Wolfe's The Doorbell Rang.
Worst: Withholding Evidence From the Reader
This one is an oldy, even brought up in Ronald Knox: 10 Commandments of Detective Fiction: "The detective must not light on any clues which are not instantly produced for the inspection of the reader." All the evidence needs to be put forward so there's a fighting chance the reader can solve it. Granted, something may not be obvious as evidence, but as long as the clue is mentioned, it's fair game. So when a detective learns info and just keeps it locked up tight, that feels unfair. And we read these stories often for that feeling of fairness.
---
So those are some of the best and worst tropes in murder mysteries. If you want more discussion of tropes, this post looks at book tropes as a whole, while this post looks at the best and worst of fantasy tropes.