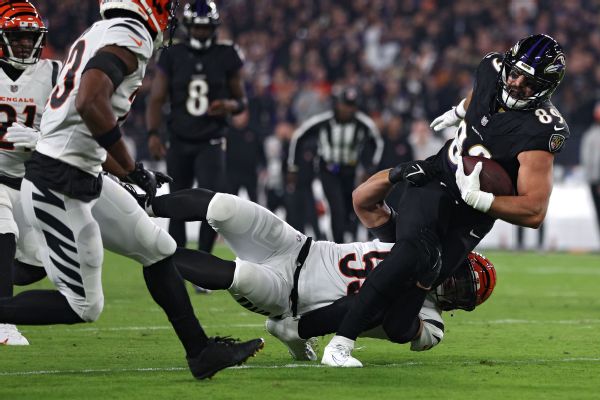 CINCINNATI — Bengals coach Zac Taylor on Friday delivered an impassioned defense of linebacker Logan Wilson after he was scrutinized for his tackle of Baltimore tight end Mark Andrews and other plays that resulted in injuries to Ravens players during Thursday night's game.
Taylor took exception to how Wilson was portrayed in the hours after the game.
"It's kind of been brought to my attention, the narrative that's out there right now, which I think is completely reckless," Taylor said. "He plays the game the right way. I think some people have gotten ahead of themselves, labeling him a certain way.
"It's frustrating to see that because I know what the guy is about. And I know that he's trying to play the game the right way."
Wilson appeared to bring down Andrews using the "hip-drop" maneuver, in which a player goes to the ground to create additional force to halt an opponent. The move, which is legal, has been a topic of conversation throughout the year.
In March, the NFL Players Association released a statement that urged the league's competition committee not to ban the hip-drop, noting such a measure is "unfair to players and unrealistic to implement."
At the NFL owners meetings in October, a prominent league official presented data that showed the hip-drop has 25 times the injury risk of a normal tackle. Jeff Miller, the NFL's vice president of health and safety, compared it to the horse collar.
"It's an unforgiving behavior and one we need to try to define and get it out of the game," Miller said.
Speaking to reporters after Thursday night's game, Ravens coach John Harbaugh said Wilson's move was "definitely a hip-drop tackle."
Harbaugh was critical of what happened to Andrews, who likely suffered a season-ending left ankle injury on the play.
"It's a tough tackle," Harbaugh said. "Was it even necessary in that situation?"
Wilson was not made available to reporters after the game, which the Ravens won 34-20.
On Friday, Taylor was about to leave the dais inside the Bengals' news conference room before he sat back down to issue a statement on Wilson amid the backlash the fourth-year player has received.
"It's unfortunate any time a player gets injured," Taylor said. "But he's a guy I'm proud to coach and proud to be a part of this team. Frustrating and a little bit maddening when you see the narrative about him. That's not the case at all. He's a guy just trying to help the team win."
Ravens linebacker Patrick Queen said that while he hated that Andrews was hurt, he defended the hip-drop.
"At the end of the day, we play football," Queen said. We play a tackling sport. I don't think a hip-drop tackle is that bad of a thing. How else do you want us to tackle? Just let the guy run past you?"
After Wilson brought Andrews down, he dropped to a knee while Baltimore's medical staff tended to the tight end, who eventually walked off the field to a large ovation from the home fans at M&T Bank Stadium.
Cincinnati's linebacker was also involved in other plays that resulted in injuries. At the end of the first quarter, Wilson tackled Ravens quarterback Lamar Jackson on Baltimore's sideline after chasing him down during an extended scramble. Jackson was evaluated by the team's medical staff but didn't miss a snap and finished the game. Ravens wide receiver Odell Beckham Jr. didn't return to the game after Wilson chased him down in the fourth quarter.
Harbaugh suggested the Ravens were going to have the league office review Wilson's tackle on Jackson.
"The other one on the sideline," Harbaugh said of that play. "There are always plays you send into the league to have them look at and have them interpret for you."