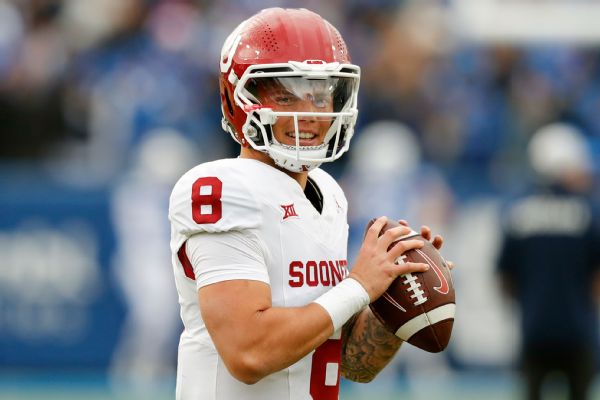 Freshman Jackson Arnold started the second half at quarterback for No. 14 Oklahoma against BYU after Dillon Gabriel suffered an apparent injury.
Gabriel was 13-for-21 for 191 yards and two touchdowns in the first half as the Sooners and Cougars were tied 17-17 going into the half in Provo, Utah. The Oklahoma radio broadcast said Gabriel had a head injury.
Arnold, the No. 3 player in the 2023 ESPN 300 rankings, was expected to redshirt this season, but with appearances in four earlier games, he won't be able to preserve it.
"You are always trying to be mindful of that," Oklahoma coach Brent Venables said of Arnold's potential redshirt at his news conference Tuesday. "Sometimes you can potentially do it and sometimes that was the plan but there's disaster that happens and then you got to make a hard right-hand turn. You always are looking at Plan A or Plan B, best-case scenario, worst-case scenario but he's still been able to take all of the reps just in case something unforeseen happens so he can stay ready."
Gabriel, who transferred from UCF to Oklahoma last season, suffered a head injury against TCU last season and missed a start against Texas. This season, he has thrown for 3,260 yards and 27 touchdowns to 5 interceptions, including driving the Sooners 75 yards in 62 seconds for a 34-30 win.