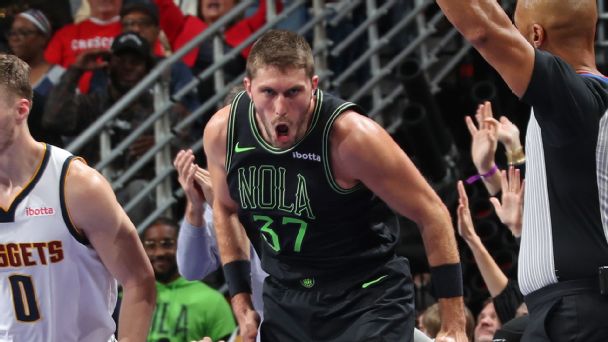 New Orleans Pelicans forward Matt Ryan tallied his 28th triple with the franchise Friday against the Denver Nuggets in NBA In-Season Tournament play.
Herbert Jones had the ball in the backcourt before swinging the ball to Ryan on the wing. Attempting the three-pointer, Ryan was fouled by Julian Strawther, sinking the triple with continuation.
This created a unique link between the NBA and NFL.
In Super Bowl LI, the Atlanta Falcons and former quarterback Matt Ryan had a sizable lead of 28-3 late in the third quarter before Tom Brady and the New England Patriots managed to defeat Atlanta 34-28 in overtime.
The similarities between Ryan's 28 three-pointers and the Falcons' 28-3 lead end with the final result — while Atlanta couldn't hold on, the Pelicans went on to defeat the Nuggets 115-110.
The Pelicans social media account viewed it as the perfect opportunity to troll the then-Falcons quarterback.
Matt Ryan's 𝟮𝟴th 𝟯 as a Pelican was ELECTRIC 😄 pic.twitter.com/Ddo4AXTEsi

— New Orleans Pelicans (@PelicansNBA) November 18, 2023
As unlikely as it sounds, both NBA and NFL Matt Ryans have something in common now — 28-3.