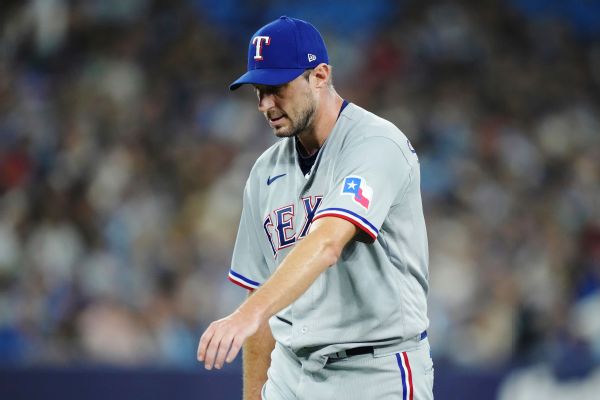 Texas Rangers ace Max Scherzer will miss the remainder of the regular season and is "unlikely" to pitch in the postseason after straining a muscle in his upper arm, general manager Chris Young said Wednesday.
Scherzer, 39, was the Rangers' prized trade-deadline acquisition, landing him in a deal with the New York Mets for infield prospect Luisangel Acuña. He had pitched well in eight starts for the Rangers, posting a 3.20 ERA, but left his start Tuesday night against Toronto when the teres major — a muscle that connects the scapula to the humerus — tightened up in the sixth inning.
Young said an MRI on Wednesday revealed a low-grade strain of the teres major that won't require surgery.
"In some ways I was almost relieved that it's not worse. It's not surgery," Scherzer said. "Talking with the doctors, I fully expect to make a full recovery."
Typically, low-grade teres major strains take at least a month to heal — and it's unclear whether the Rangers will even be playing at that point.
Young said team physician Dr. Keith Meister feels confident that the injury will fully heal with rest, and Scherzer said he needed a couple of weeks of not throwing. But there are only 2½ weeks left in the regular season as the Rangers try to make the playoffs for the first time since 2016.
"Unfortunately, the timing of the schedule isn't going to line up to where we can provide him rest, and he'll still pitch again, certainly before the regular season," said Young, who was then asked about the postseason. "I don't want to rule it out at this point. We'll see where the next two weeks go and how he's feeling. That said, it's probably unlikely."
After winning their first eight games following the Aug. 1 trade deadline, the Rangers lost 16 of their next 20. Four consecutive wins have thrust them back into a wild-card spot, and seven of their final 10 games against American League West rival Seattle could determine whether Texas makes it to October.
Scherzer was supposed to be a vital part of that run. The Rangers acquired him and left-hander Jordan Montgomery to stabilize a rotation already beset by injury, with free agent starter Jacob deGrom out for the year following Tommy John surgery.
While Texas still has Nathan Eovaldi, Jon Gray and Montgomery to start games, its bigger worry, even with Scherzer out, is its bullpen, which faltered during the losing skid.
"This team has shown a ton of resolve all season long. We've lost five of six All-Stars in the second half at different periods. We've now lost a future Hall of Fame pitcher," Young said. "Yet here we are in a great position to make a run here at the end of the season and make a playoff push.'"
Now in his 16th year, Scherzer is a three-time Cy Young Award winner and future Hall of Famer. He remains under contract with Texas for next season.
"I've got to listen to what my body says," Scherzer said. "I'll throw a ball when I can throw a ball, but it sounds like I'm not going to be able to throw a ball for a little bit."
Nonetheless, he joins a significant list of pitchers who are out for the year with injury, including deGrom, San Diego's Yu Darvish, Dodgers starters Dustin May and Tony Gonsolin, and Tampa Bay's trio of Tommy John cases (Shane McClanahan, Jeffrey Springs and Drew Rasmussen). Angels star Shohei Ohtani will also not pitch again this year because of an elbow ligament tear.
"This clubhouse has been unbelievable through all the injuries we've had, especially in this second half," Rangers manager Bruce Bochy said. "We'll continue to persevere and focus forward."
Information from The Associated Press was included in this report.