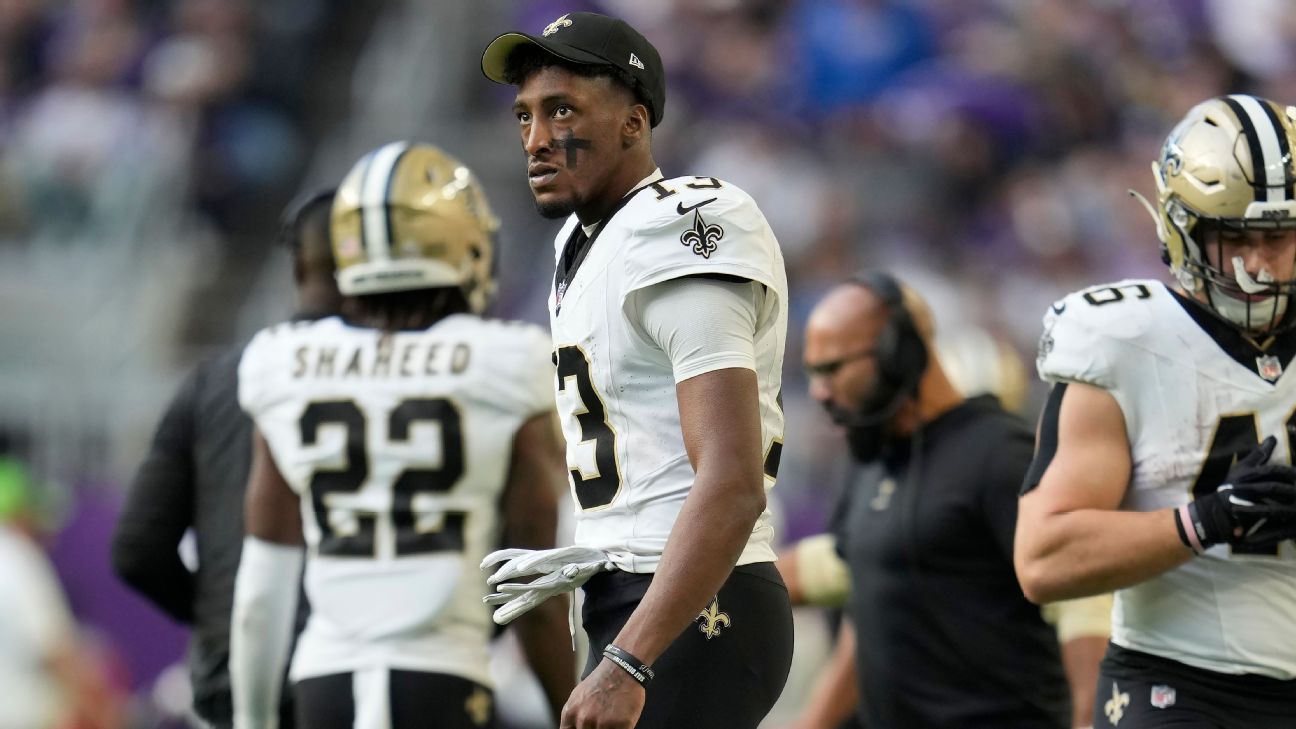 NEW ORLEANS — The New Orleans Saints put wide receiver Michael Thomas on injured reserve Tuesday, the team announced.
Thomas will miss at least four games due to a knee injury and will be eligible to return for the Saints' Week 16 game against the Los Angeles Rams on Dec. 21.
The move came one day after Saints coach Dennis Allen said injuries to Thomas and starting cornerback Marshon Lattimore (ankle) will "take some time" to heal. Both players, who were injured during the Saints' loss to the Minnesota Vikings in Week 10, spent the bye week rehabbing.
Allen did not commit to IR stints for either player Monday, although Lattimore remained on the active roster as of Tuesday. Allen called both injuries "fairly significant" last week but said a week ago that they were waiting for second opinions.
"I think we're all on the same page in terms of where we're at," Allen said in his latest update.
Thomas injured his knee when he took a hard hit on the first offensive play of the Vikings game, stayed in to catch a pass on the next play, got up and then walked to the medical tent. Thomas spent the rest of the game watching from the sideline.
The veteran receiver now has spent time on a reserve list in four straight seasons, dating to a Week 1 ankle injury in the 2020 season opener. Thomas played in only seven games that season and went on IR for the final three games of the regular season but returned for the Saints' two postseason games that year.
Thomas had ankle surgery prior to the 2021 season and began it on the physically unable to perform list, but complications with his recovery caused him to miss the entire season. He returned to play in three games to begin the 2022 season but dislocated his toe in a Week 3 game and missed the rest of the season.
Thomas has played in 10 games this season, catching 39 passes for 448 yards and a touchdown.
He signed a five-year, $100 million deal prior to the 2019 season, then went out and was named Offensive Player of the Year after catching a record 149 passes that year.
The Saints reworked Thomas' deal twice this offseason, agreeing to keep him on what was effectively a one-year, $10 million deal worth up to $15 million. That contract will have to be addressed again in the offseason if Thomas is to return to the Saints in 2024.
New Orleans signed wide receiver Marquez Callaway to the practice squad in the wake of the Thomas move. Callaway played for the Saints from 2020 to '22 and has seven career touchdowns.