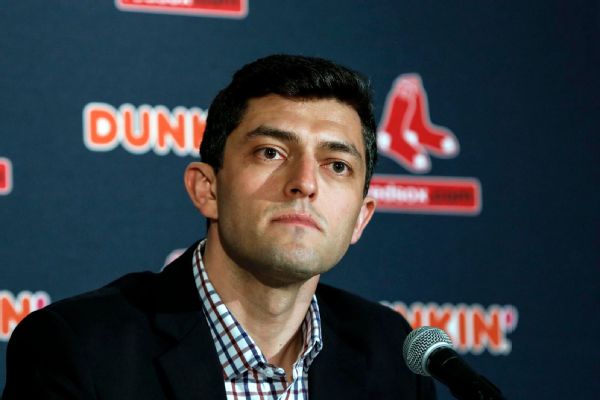 The Boston Red Sox fired chief baseball officer Chaim Bloom on Thursday after four up-and-down seasons that included a pair of last-place finishes and a 2023 almost certain to end without a playoff berth.
Bloom, 40, joined the Red Sox following their firing of general manager Dave Dombrowski in September 2019, a year after they won their fourth World Series in 15 years. He brought small-market success with Tampa Bay as the antithesis to the swashbuckling Dombrowski: methodical, patient and ready to rebuild a farm system while still succeeding in the major leagues.
But within months of arriving, with ownership stressing financial flexibility, Bloom traded star outfielder Mookie Betts to the Los Angeles Dodgers. The move hung over his tenure as Boston sandwiched last-place finishes around a 2021 in which it took Houston to six games in the ALCS. The Red Sox, on the cusp of wild-card contention as recently as last week, have lost six of their past seven entering Thursday's doubleheader against the New York Yankees.
The firing surprised multiple officials in the organization, who believed that despite the lack of big league success, the Red Sox's future — with a much-improved farm system and significant room to spend — is on the upswing. In a statement, owner John Henry said Bloom "set the stage for the future," but that wasn't enough to save his job.
"The decision was not made lightly or easily," President & CEO Sam Kennedy read from a prepared statement before his press conference. "We all know where we are in the standings. It's a painful reality that fans feel as deeply as we do. Our fans deserve a winning, competitive team that consistently plays postseason baseball."
After going 86 years without a World Series championship, the Red Sox have won four since 2004, the most for anyone this century.
But they've done it with three different baseball bosses – Theo Epstein (2004, '07), Ben Cherington ('13) and Dave Dombrowski ('18) – and five different managers over that span as the team rode a roller coaster that has also seen it finish last in the AL East five times since 2012.
"I think we've always been consistent, trying to build, build that farm system, but win at the major league level has always been a priority," Kennedy said. "Obviously, the past two seasons we haven't been there and the change was made."
Entering Thursday's doubleheader against the Yankees, the Red Sox were 267-262 in Bloom's tenure, with a trip to the AL Championship Series in 2021.
"It's hard to say it's not related to results because that's what this is all about," Kennedy said. "We're aiming for World Series championships. That's it. That's the aim, that's the goal. We're here to win World Series championships. While we're here, we're not going to waste this opportunity. That's what the Boston Red Sox are all about."
Kennedy said Bloom was informed of the decision by Henry, Chairman Tom Werner and himself Thursday morning.
The team said general manager Brian O'Halloran "has been offered a new senior leadership position within the baseball operations department."
O'Halloran will run the department in the interim, along with assistant general managers Eddie Romero, Raquel Ferreira and Michael Groopman.
The Associated Press contributed to this report.