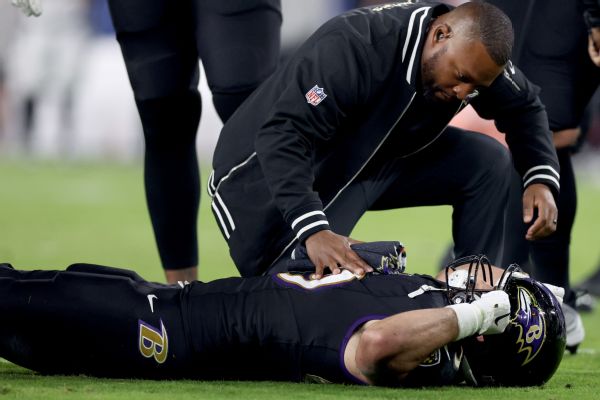 BALTIMORE — Shortly after one of the biggest wins of the season — a 34-20 victory over the Cincinnati Bengals on Thursday night — Baltimore Ravens coach John Harbaugh delivered news that could significantly impact his team's promising season going forward.
Pro Bowl tight end Mark Andrews likely suffered a season-ending left ankle injury.
"Mark Andrews has a very serious ankle injury," Harbaugh said. "I think it's a form of a high ankle [injury] but more than just a sprain."
Andrews' devastating injury sparked some controversy. On the opening drive, he was thrown to the ground with a "hip drop" tackle by Bengals linebacker Logan Wilson.
It's the same type of tackle that led to Kansas City Chiefs quarterback Patrick Mahomes' high ankle sprain in the divisional round of last season's playoffs. There was talk this past offseason that the NFL could outlaw that tackling technique in which the defender grabs the ball carrier from behind and pulls him down while dropping his own body to the ground.
"It was definitely a hip-drop tackle, and it is being discussed," Harbaugh said. "It's a tough tackle. Was it even necessary in that situation?"
Asked about Wilson's tackles that have resulted in players getting injured, Bengals coach Zac Taylor said, "I don't know anything about that."
The Ravens (8-3) held on to first place in the AFC North, but they presumably lost Lamar Jackson's favorite target. Over the past six years, Andrews caught 287 passes from Jackson — 123 more than any other player.
Andrews also connected with Jackson for 33 touchdowns, which ranks behind only Mahomes-Travis Kelce (50 touchdowns) among quarterback-tight end combinations.
Jackson saw Andrews get injured but said, "I was hoping he was going to get up."
"I believe it's going to be a huge challenge," Jackson said of moving forward with Andrews, "but we have [tight ends] Charlie [Kolar] and [Isaiah] Likely. Those guys are going to step up. We're going to build chemistry."
With Andrews out, Jackson relied more on his outside targets than he ever has in the past. Jackson totaled 206 yards passing when targeting wide receivers Thursday, his most in a game over the past two seasons.
Wide receivers Nelson Agholor and Rashod Bateman both caught touchdown passes, and Odell Beckham Jr. produced a season-best 116 yards receiving.
"It's going to take everybody," Harbaugh said. "It's going to take a team to do it and our guys will be up for the challenge and up for the task, but those receivers are obviously going to be a big part of that."
Likely, a fourth-round pick from a year ago, will take over as the Ravens' starting tight end. He didn't have a catch Thursday, and he has 45 catches for 462 yards in 27 career games.
"It means every game from this point on is for Mark in my eyes," Likely said. "Every snap I'm going to take for the rest of the season is going to be for No. 89 [Andrews' number]."
Andrews' six touchdowns led all tight ends through the first 10 weeks of the season. He was one score away from tying Todd Heap for the most touchdown catches in franchise history (41).
"It's a big hit for this team," Beckham said. "Mark has been an integral part of this team since him and Lamar have been here, so we just got to find a way to step up."