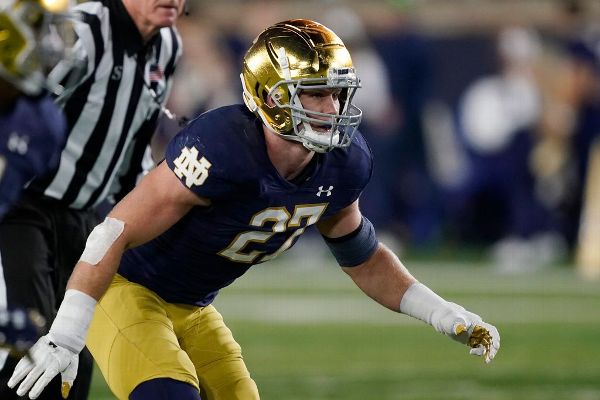 No. 9 Notre Dame will regain three starters from injury for this week's showdown against No. 6 Ohio State, as linebacker JD Bertrand, safety DJ Brown and tight end Mitchell Evans are all set to play.
Coach Marcus Freeman confirmed the players' return Monday while saying tight end Eli Raridon will remain out as he works his way back from a knee injury.
Bertrand was put in concussion protocol after a Sept. 9 game against NC State and missed last Saturday's contest against Central Michigan. The two-time captain and three-year starter has 203 career tackles, including 16.5 for loss and 3.5 sacks.
Brown missed the Central Michigan game with a hamstring injury, which also limited him last season. The sixth-year player recorded his fourth career interception against NC State to go along with 114 career tackles and nine pass breakups.
Evans, a junior, had four receptions for 61 yards on Sept. 2 against Tennessee State and played against NC State but missed the Central Michigan game while in concussion protocol.
Third-year defensive lineman Gabriel Rubio will begin practicing this week and is probable for the Ohio State game, Freeman said. Rubio sustained a knee injury Aug. 26 in Notre Dame's season opener against Navy.