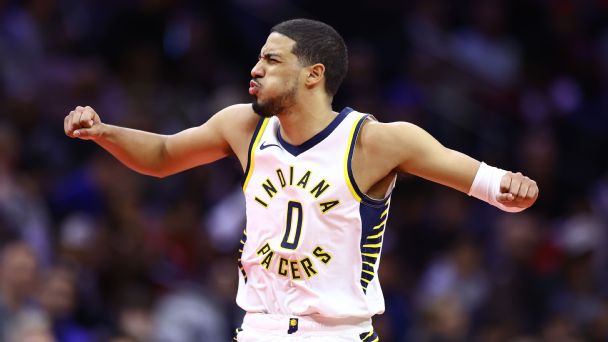 As the NBA was preparing to launch its first in-season tournament, something the league and commissioner Adam Silver repeatedly stressed was that introducing a cup tournament like those held in Europe would present teams with an opportunity to win something besides the Larry O'Brien Trophy in June.
In addition, by virtue of having all of the knockout stage games on national television, the tournament would create an opportunity for under-the-radar teams to play themselves into the national spotlight.
In other words, it was created for a team exactly like the Indiana Pacers.
"The in-season tournament is probably the first time that I'm really competing to win a championship on the NBA level," Pacers guard Tyrese Haliburton told ESPN. "I've never made the playoffs or anything, so right here it gives me the chance to be able to do that, and that's exciting for me.
"There's definitely some more juice to those games, and it's exciting. It's an exciting time for the league and you know, I think we're all trying to push the in-season tournament to be a bigger thing because everybody wants there to be some meaning to it."
Indiana has one scheduled nationally televised game this season: Jan. 30 in Boston on TNT. That will, in fact, be the first time in Haliburton's career that he'll appear on the network — unless he can put the Pacers into the quarterfinals of the in-season tournament with a win against the Atlanta Hawks on Tuesday night, which would clinch East Group A for the Pacers.
For a Pacers team trying to reestablish itself as a playoff contender in the Eastern Conference, the chance to play in games with real stakes in the opening weeks of the season is something they aren't taking for granted.
"Opportunities to be on more meaningful stages is something that's important for young teams," Pacers coach Rick Carlisle told ESPN. "I've been involved in over 300 playoff games in my playing, assistant coaching and head-coaching career. For me, my job is about developing the style that helps our group have the best possible chance to win.
"That said, having the opportunity to compete on a more meaningful platform is very important."
The NBA is hoping that the in-season tournament becomes a universally accepted event, and not just an interesting wrinkle to the early part of the regular season. The first step in doing that is getting players and teams to buy in, something that was in question this summer when the event was announced. Enter the Pacers, who finished 11th in the East a season ago, five games out of play-in position, and were projected to finish ninth in the East this season, despite the presence of Haliburton, an all-star a year ago who is averaging a career-high 23.5 points per game this season.
"The buy-in from our teams and players is what will ultimately drive interest from fans and help create a new tradition," Silver told ESPN. "Players around the league, whether it's young rising stars like Tyrese Haliburton or all-time greats like LeBron James and Steph Curry, have talked about what's at stake in these in-season tournament games and how it's translating to an even more competitive game on the court."
Haliburton is leading the league in assists (11.6 per game), driving an offense that plays in a style reminiscent of Steve Nash's "Seven Seconds or Less" Phoenix Suns; Indiana leads the league in both pace and points per 100 possessions. They can still advance to the knockout round even with a loss to Atlanta, though it would take a little help from the rest of their group. If they do reach the quarterfinals, the league will get a chance to showcase one of the league's most exciting young teams to a new level of interest from the sport's casual fans.
Still, there are plenty of reminders along the way that Indiana remains a work in progress. Even while talking Saturday about his team's start, and the potential impact of winning against Atlanta, Carlisle cautioned against his group looking past another young team, the Orlando Magic, in a non-tournament game Sunday.
The Pacers then fell behind by as many as 40 points at home, as the Magic led wire-to-wire in a rout.
"We gotta keep our eye on the ball," Carlisle said. "But with Tyrese, offensively we can do some special things, and defensively we're getting better."
The Pacers will need to get a lot better than their current 27th ranking in defensive rating to make the kind of playoff run Haliburton & Co. eventually hope to. They're currently seventh in the East, firmly in the playoff and play-in chase, so they project to be playing meaningful basketball in March and April for the first time since 2021, when they lost to the Washington Wizards in the play-in tournament.
For now, Indiana is simply focused on Tuesday's game in Atlanta. And for a league hoping to turn this event into a cornerstone of the NBA calendar, it has at least succeeded in getting one of its brightest young stars on board with the idea.
"Guys might think, 'Oh, the season's long. If we lose this one, we're OK.' But I think there's some heightened juice to that to be like, 'No, no, no. Yeah, the season's long. But we want this game, we want it now,'" Haliburton said. "I've been loving that aspect of the in-season tournament. It's been a lot of fun."