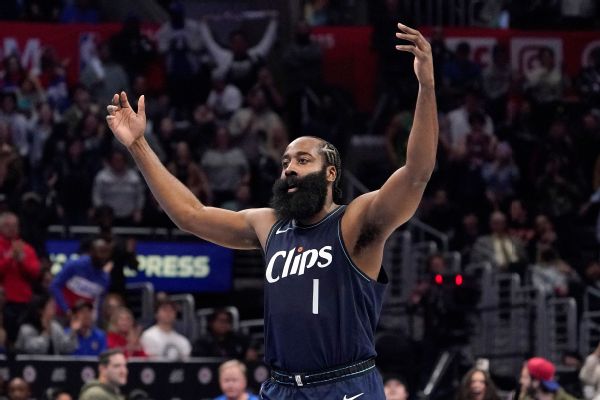 LOS ANGELES — After drilling a side-step 3 that just beat the shot clock while being fouled, James Harden sat near the halfcourt logo and shook his head in delight as the Crypto.com Arena crowd roared.
Harden not only hit his biggest shot as an LA Clipper, he won his first game with his new team with some vintage shots in crunch time. He delivered his best game as a Clipper with 24 points, nine rebounds and seven assists to help LA to a 106-100 win over the Houston Rockets.
The Clippers (4-7) snapped a six-game losing streak by scoring 12 of the final 13 points to overcome a 99-94 deficit with 2:15 left.
The win was massive, given that the Clippers had lost five straight with Harden on the floor. But more important than the win was that Harden is starting to feel more like himself with each game after not participating in a training camp or preseason before the trade.
Harden finished 8-of-11 from the field and also connected with Ivica Zubac twice at the rim for two big baskets in the comeback. On top of hitting the biggest shot of the game, he made plays late with his playmaking and ballhandling.
"I'm getting real close," Harden said. "I'm getting close to myself every game I feel like I'm improving."
This was a glimpse of what the Clippers can be with Harden. Their three big scorers all had moments where they took control of the game. Kawhi Leonard snapped out of a little slump and had 26 points, eight rebounds and five steals. Paul George had 23 points, eight rebounds and a huge block late in the game.
The Clippers also got their first win after making a big lineup change. Russell Westbrook came off the bench as the sixth man for the first time as a Clipper. Head coach Ty Lue said Westbrook approached him with the idea to help the team snap its slide. Westbrook, Harden, George, Leonard and Zubac had started the first five games of Harden's Clippers' tenure, but those four stars had been outscored by 20 points during their 76 minutes together entering Friday's game, according to ESPN Stats & Information.
Westbrook, who left Friday night without talking to reporters, finished with eight points, three rebounds and two assists in 17 minutes, his fewest since joining the Clippers before the All-Star break last season.
"He wanted to do that, which [is] an ultimate sacrifice for a guy of his caliber," Lue said. "For things he's done in this league, the things he's done for this team. So shout-out to Russ for wanting to do that. It's a huge part of what we've talked about, just sacrificing wanting to win at a high level."
George, who campaigned for the Clippers to sign his former Oklahoma City teammate last season, recognized Westbrook's sacrifice.
"It's tough with his energy and obviously there's a ton of chemistry there," George said. "We've always played well off one another, but just takes a lot for his sacrifice and what he did for us going forward to try new things out. Can't say enough just on the character of Russ and his leadership."
Harden also understood what Westbrook was doing in the move.
"Russ sacrificed for the team and I know it was a tough decision," Harden said. "Obviously he wants to start, but sacrificing for the team. All in all it's going to pay off better for us.
"So just continue to make sure everyone on this roster is playing well and we find our swag, our rhythm as a unit and individually as a team."
George liked what he saw and how he, Harden and Leonard had their moments and the potential moving forward.
"I think it's just a great balance," George said. "Honestly, when we're going in spurts and everybody makes an imprint on the game, it's tough to match up with us. And I think we showed that again, glimpses of what it looks like when we're connected and we just got the job done."