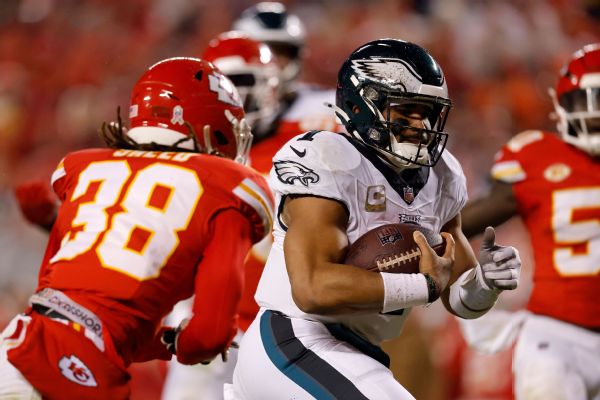 KANSAS CITY, Mo. — Philadelphia Eagles center Jason Kelce got his first professional win against brother Travis Kelce and his old coach Andy Reid, but he and some of his teammates left Arrowhead Stadium feeling less than satisfied following a 21-17 victory over the Kansas City Chiefs in the Super Bowl LVII rematch Monday night.
"Listen, I'm really happy," Jason Kelce said. "I would have probably been happier if we would have put together a really dominant performance offensively and played great. I think the fact that we didn't do that makes it a littler bittersweet. I think the defense is largely why we won the game today. Hats off to those guys, and I'm certainly happy to be 9-1."
With wind and rain a steady presence throughout the night, neither passing offense fared particularly well. Jalen Hurts threw for 150 yards and an interception and was sacked five times while Patrick Mahomes went for 177 yards with two touchdowns and a pick.
Hurts breathed life into Philly's passing game midway through the fourth quarter when he hit DeVonta Smith for a 41-yard completion down the right sideline, setting up a Hurts rushing score — his second of the night — to put the Eagles ahead for good.
"I don't think we played clean tonight. I don't think we played to our standard — nowhere near our standard," Hurts said. "But I think the thing that you can't test or quantify is the resilience that a team has, the ability to persevere and see through things and overcome things, and this team has that.
"When you win games like we've won games, that builds a ton of character. We're kind of in, I guess, character development mode with the games we've played and how we've won. It can only serve us for great things in the future."
The Chiefs, meanwhile, were held scoreless in the second half for the third straight game. They are averaging a league-low 5.3 points per game in the second half.
Wide receiver Marquez Valdes-Scantling could have provided points on the Chiefs' final possession, but he dropped a perfectly placed pass inside the Eagles' 5. That was the biggest of four drops by the Chiefs in the fourth quarter.
Chiefs wide receivers are dropping 9% of the passes thrown their way this season, the highest percentage through a team's first 10 games in the past 10 seasons.
"Guys that I've seen catch before didn't necessarily make the catch," Reid said. "These are good players and we are OK. We've just got to get that straight."
Mahomes lost a touchdown pass in a similar manner in a Week 8 loss to the Denver Broncos when wide receiver Skyy Moore dropped a deep pass in the end zone.
"They know I'm going to keep firing it," Mahomes said. "That's just who I am. I'm going to fire it to the guy that's open and usually they're going to make the plays.
"Offensively we're just not where I would want to be at this point in the season, and that's everybody. It starts with me."
Still, the Chiefs (7-3) are tied for the fewest losses in the AFC while the Eagles own the best record in football. The possibility remains that they'll clash once again in Super Bowl LVIII in Las Vegas.
"These guys are going to be right there in hunt, as are we, so we'll see how it shakes out," Kelce said. "Maybe it'll be something similar come February."
ESPN's Adam Teicher contributed to this report.