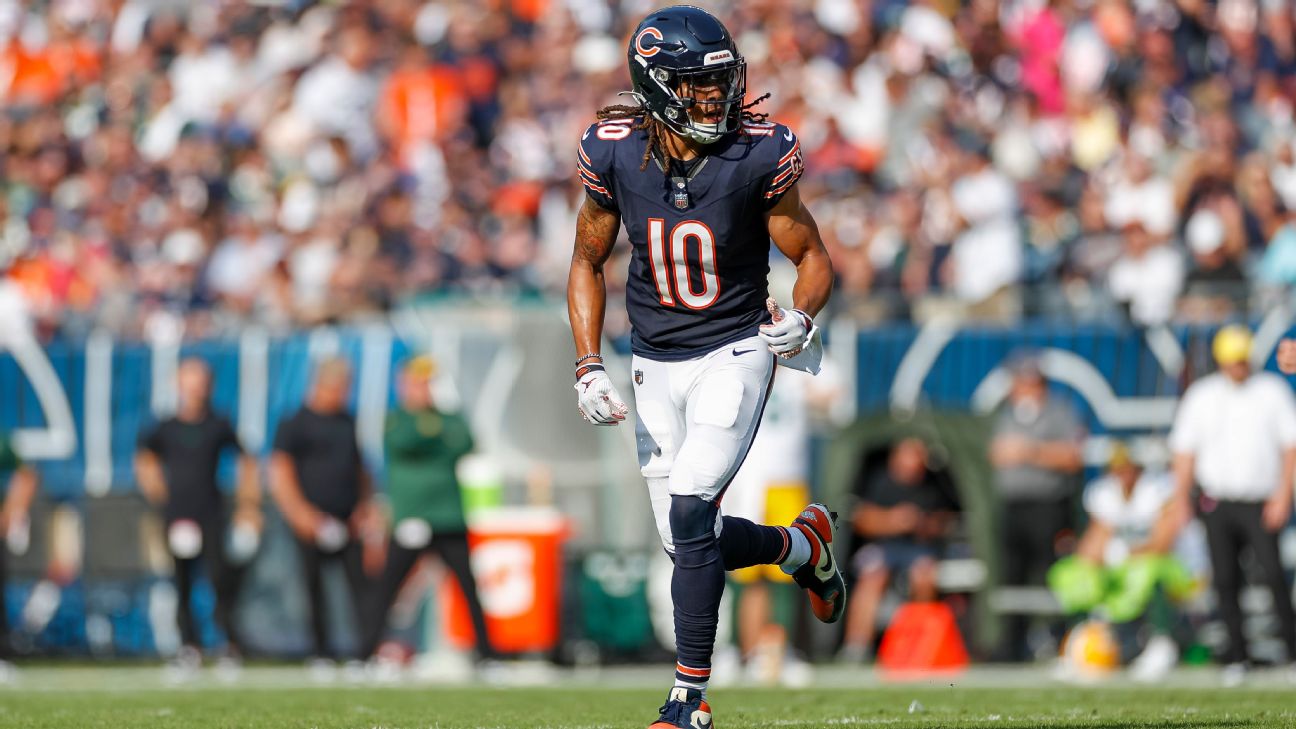 LAKE FOREST, Ill. — Chase Claypool's lackluster performance against the Green Bay Packers could put the Chicago Bears wide receiver in jeopardy of being inactive on Sunday at Tampa Bay.
Claypool was targeted twice by quarterback Justin Fields, and both passes resulted in incompletions. It was his effort blocking on the perimeter — which resulted in multiple missed assignments and hindered the Bears' short passing game — that was the subject of criticism on social media after videos circulated of the wide receiver's apparent lack of effort.
It was also the topic of conversation between Claypool and Bears coach Matt Eberflus following Chicago's 38-20 season-opening loss.
"You all saw the plays that … and again, the perimeter blocking needed to improve for all of us," Eberflus said. "And we're gonna get that, work hard to get that done."
Claypool practiced without limitations during the two weeks leading up to the Packers game after injuring his hamstring in early August. Although he visited the injury tent twice against Green Bay, his struggles were not due to injury, according to Eberflus.
The Bears coach said that Claypool had "displayed good technique in practice" on his blocking, which is why coaches put him in position to do so against Green Bay. Chicago wide receiver Equanimeous St. Brown, who is known for his blocking, was inactive for Week 1 as a healthy scratch.
"He's a great run-blocker for us," Fields said of St. Brown. "He always has been since last year and he knows the playbook like the back of his hand. He's really smart. I think he's a leader in the receiver room. So just that part. Perimeter blocking, he's really good at that. I think that's probably one thing that we missed. I don't really make those calls, so not really a question for me."
Eberflus left all options on the table when asked whether the Bears would consider making Claypool inactive against the Buccaneers.
"We're looking at all possibilities right now," he said. "I'm not going to talk about who's going to be up or down for the game right now, for obvious reasons. We're looking at all things to make our team better — who's going to be up and who's going to be down in terms of the active roster."
The stakes are high for the Bears and Claypool to get the wide receiver on track. Chicago sent the No. 32 pick in the draft to Pittsburgh for Claypool last November, and his production has not met the price of acquiring him. In eight games with the Bears, including the opener, Claypool has totaled 14 catches for 140 yards.