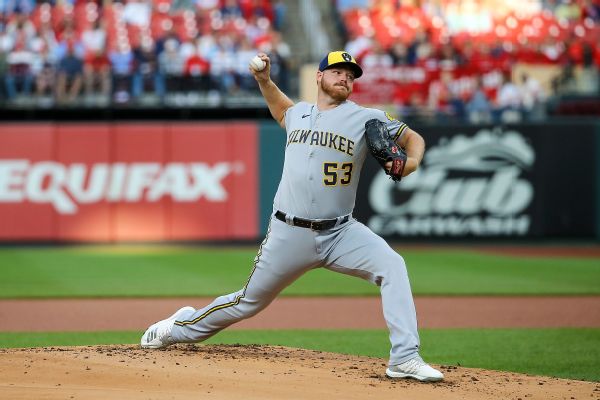 Brandon Woodruff, a two-time All-Star who when healthy has been one of the game's best starting pitchers, headlined a list of 63 players who were non-tendered ahead of Friday's deadline, making him a free agent.
Teams had until 8 p.m. ET on Friday to tender contracts to players who remain under their control, a circumstance that prompts clubs to essentially release certain players rather than pay them what they would make through the arbitration process.
Power-hitting first baseman Daniel Vogelbach, who amassed 30 home runs as recently as 2019, was non-tendered by the New York Mets. Veteran catchers Austin Nola (San Diego Padres) and Jacob Stallings (Miami Marlins) also ventured into the free agent market, as did St. Louis Cardinals starter Dakota Hudson. The Brewers non-tendered Rowdy Tellez shortly after acquiring another power-hitting first baseman, Jake Bauers, from the New York Yankees.
But it was their decision to move on from Woodruff that grabbed the most attention.
Woodruff, 30, joined Corbin Burnes and Freddy Peralta to make up a dynamic starting rotation that helped the small-market Brewers make the postseason five times in the past six years. Woodruff finished fifth in National League Cy Young Award voting in 2021, then turned in another solid year in 2022. But he missed four months early in the 2023 season with a subcapular strain in his throwing shoulder.
Woodruff came back to post a 2.59 ERA in nine starts but learned he had suffered another shoulder injury on the eve of the Brewers' wild-card series in early October. Less than two weeks later, he underwent surgery to repair the anterior capsule in his throwing shoulder, a procedure that puts his availability for 2024 in jeopardy, after which he is scheduled for free agency. Woodruff was projected to make somewhere in the neighborhood of $12 million in his last year of arbitration.
It proved to be too much of a gamble for the Brewers.
"Today we had to make a very difficult decision relating to one of the best pitchers and human beings in franchise history," Brewers general manager Matt Arnold wrote in a statement. "Throughout his 10 seasons in the organization, Brandon Woodruff has represented the Brewers with class, kindness, heart and toughness. He is recognized as a tremendous teammate, both on the field and in the community, where he and his wife, Jonie, have positively impacted so many lives around them. We remain very open to his return to Milwaukee, and regardless of what uniform he wears next, Woody will always be a member of the Brewers family.
The tender deadline often sparks deals from teams to acquire non-tender candidates before they're available to everybody on the free-agent market. The Kansas City Royals made a trade with the Atlanta Braves to acquire Kyle Wright, a promising 28-year-old starting pitcher who will miss all of 2024 after undergoing shoulder surgery but would still have two years of club control thereafter.
The Seattle Mariners acquired Luis Urias, once a promising middle infielder in the Padres' system, from the Boston Red Sox. And the Cleveland Guardians made a deal with the Padres to acquire late-inning reliever Scott Barlow, who has posted a 2.95 ERA and has struck out 247 batters in 216 2/3 innings over the last three years. Barlow is heading into his last year before free agency.