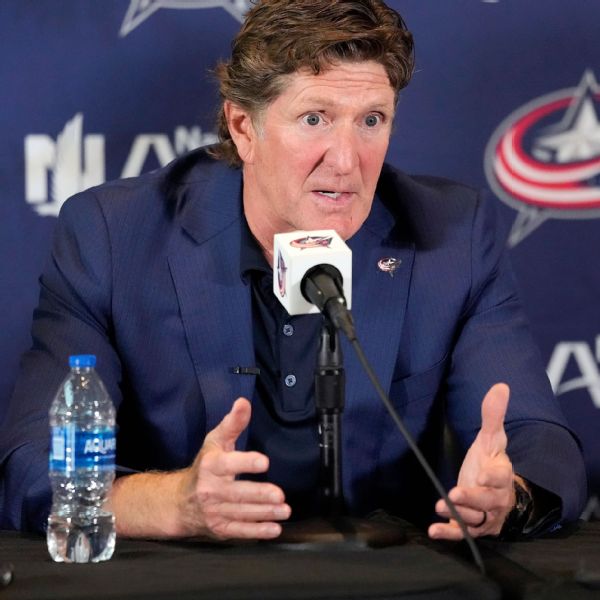 Mike Babcock's brief tenure with the Columbus Blue Jackets is over before he even coached a single game for the club.
The Blue Jackets announced Sunday that Babcock resigned and that associate coach Pascal Vincent will serve as head coach.
"Upon reflection, it has become clear that continuing as head coach of the Columbus Blue Jackets was going to be too much of a distraction," Babcock said in a statement released by the team. "While I'm disappointed to not have had the opportunity to continue the work we've begun, I know it's in the best interest of the organization for me to step away at this time. I wish everyone in the organization well in the upcoming season."
Babcock's resignation comes in the wake of allegations surfacing over the past week that he violated players' privacy when he asked to see photos on their cellphones. The assertions were first presented when former NHL player Paul Bissonnette said on Tuesday's edition of the "Spittin' Chiclets" podcast that Babcock had asked Blue Jackets captain Boone Jenner to show him his camera roll before displaying those photos via AirPlay on a wall in the coach's office.
"Enough with putting guys on the spot in the coaches' room asking them to link their phones up to AirPlay mode and grilling them," Bissonette said after the episode was released. "I've had tons of players confirm it."
Babcock and Jenner both released statements through the Blue Jackets on the same day of the podcast that denied the photo request was anything nefarious. Babcock said that while meeting with players and staff he asked them to share family photos from their phones as part of getting to know them better, and he asserted that what was portrayed on the podcast was "a gross misrepresentation of those meetings and extremely offensive.
Jenner said Babcock asked him about his family, where he was from, his upcoming wedding and hockey-related items. Jenner said the coach asked whether he had any photos of his family and that he was "happy to share some with him." Babcock also shared photos of his family with Jenner, the captain said.
"I thought it was a great first meeting and a good way for us to start to build a relationship," Jenner said in the statement. "To have this blown out of proportion is truly disappointing."
Blue Jackets All-Star forward Johnny Gaudreau confirmed to ESPN last week that he had shown Babcock photos on his phone per the coach's request. Gaudreau said he had "a great meeting" with Babcock.
"We got to share things together, pictures of our family," Gaudreau said. "I was a little upset to see the way it was handled and how it came out … but nothing you can do about it. We got off to a great start, had a great meeting with him and looking forward to working together."
Former NHL defenseman Mike Commodore, who previously played for Babcock and has been critical of the coach, said he heard that similar behavior occurred when Babcock was the coach of the Toronto Maple Leafs.
Commodore said in a video posted to X, formerly Twitter, that he heard "it happened with a few other players in Columbus, too" and that "I don't want to use any names, but in particular [it involved] a young, very highly touted prospect."
Sources told ESPN that two NHLPA executives met with Blue Jackets players Thursday to investigate the claims that Babcock had violated their privacy. The Blue Jackets welcomed the NHLPA investigation to determine whether there was any wrongdoing by Babcock, a source also told ESPN.
"Our players deserve to be treated with respect in the workplace," NHLPA executive director Marty Walsh said. "Unfortunately, that was not the case in Columbus. The club's decision to move forward with a new head coach is the appropriate course of action."
Sportsnet had reported that the NHL and NHLPA planned to discuss the allegations and the next potential steps of the investigation at a meeting previously scheduled for Friday.
The NHLPA's investigation revealed that some players didn't feel totally comfortable with Babcock, sources told ESPN, and younger players in particular spoke out on negative experiences. There was at least one reported incident of Babcock looking at a personal device for what seemed like too long.
"Just awkward interactions," a source briefed on the findings told ESPN.
"[Babcock] may be trying to change, but you can't force it," a player's agent told ESPN. "His communication style wasn't going to work for the younger generation."
The move by Babcock comes less than three months after he was hired by the club in July. Babcock, who has also coached the team then known as the Mighty Ducks of Anaheim and the Detroit Red Wings, also saw his conduct with players come into question when he was in charge of the Leafs.
Babcock, who coached the Leafs from 2015 to 2019, requested a private meeting with Mitchell Marner in which he asked the forward to rank his teammates' work ethic and then revealed those rankings to the team. Another former player, Johan Franzen, accused Babcock of being verbally abusive when Franzen played with the Red Wings.
Babcock, who is 60 and had last coached in the NHL in 2019, was slated to be the head coach of the University of Saskatchewan men's program for two seasons starting in May 2021, only to step down months later.
His replacement in Columbus, Vincent, was a Winnipeg Jets assistant coach for five seasons before he became head coach of the Jets' AHL affiliate. Vincent coached the Manitoba Moose for five seasons before he was hired by the Blue Jackets prior to the start of the 2021-22 season to serve as associate coach.
"This was a difficult decision on everyone's part, but one we felt necessary to ensure our focus remains on the players and the team's upcoming season," Blue Jackets general manager Jarmo Kekalainen said in a statement. "On behalf of the entire Blue Jackets organization, we want to thank Mike for his hard work and professionalism he has shown in working together on a plan to step down."
Information from ESPN national NHL reporter Emily Kaplan and the Associated Press was used in this report.