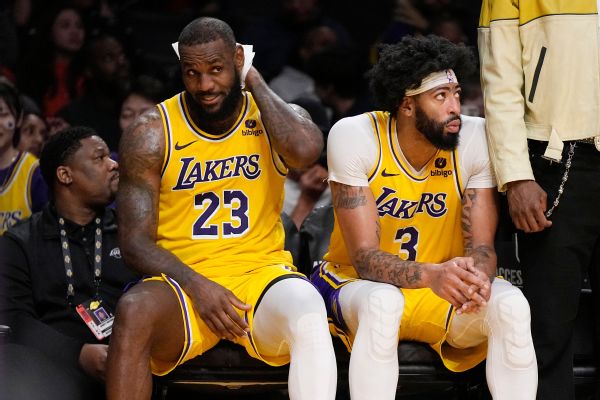 LOS ANGELES – While Lakers big man Anthony Davis admitted the tightness in his left hip flared up in the first half Wednesday night, he would not blame his poor play on it in a 125-110 loss to the Sacramento Kings.
"I just played bad," Davis said after tying a season low with nine points on 3-of-9 shooting. "I'm not going to put it on anything. … It was just missed shots. I just played like s— tonight. It's that simple."
Davis, who has been managing the hip injury for more than a week, wasn't the only one to struggle as the Lakers' three-game winning streak ended. He had five turnovers, and L.A. coughed it up 23 times as a team, leading to 30 points for the Kings.
The Lakers trailed by as many as 20 points in the first quarter and 26 in the game, as Sacramento was led by 29 points, 16 rebounds, 7 assists and 3 steals from Domantas Sabonis; 28 points, 5 assists and 4 steals from De'Aaron Fox; and 28 points, 7 assists and 2 steals from Kevin Huerter.
Davis, meanwhile, appeared to be limited in his movement by the same injury that caused him to miss the end of the Lakers' road loss to the Miami Heat, followed by their 34-point drubbing at the Houston Rockets.
In contrast, a dominant Davis appeared in the Lakers' 134-107 blowout win over the Memphis Grizzlies on Tuesday, when he notched 19 points on 7-for-11 shooting, 11 rebounds, 5 assists and 6 blocks in 27 minutes.
The difference between the two games for Davis wasn't just the results, but the preparation. With the Kings game coming on the second night of a back-to-back, care options were limited.
"I'm still treating it every day," Davis said. "Obviously, you don't get that day to really attack it with the back-to-back. But it is what it is. I suit up, I will play. I got to be more effective. Obviously, it was still bothering me a little bit, but I still got to go out there and do my job."
L.A. trailed by 23 points heading into the fourth quarter, and with the schedule being as crowded as it is — with a third game in four nights Friday at the Portland Trail Blazers with a flight in between — Lakers coach Darvin Ham could have pulled the plug early.
Instead, he kept his main rotation players in, and they managed to cut the margin to nine with 3:05 remaining before Sacramento settled back in to put the game out of reach.
"I told them at the break, at the end of the third, 'We got about four or five minutes to see if we can do something and dig into this lead, minimize the deficit,'" Ham said. "And they came out, we switched up our defense to a zone, which helped slow them down a little bit, and we were able to make shots on the other end. … The five guys that finished for us, you got to give them a chance to see what we can do."
The Lakers couldn't capitalize on a strong night from LeBron James, who became the second-oldest player to record a triple-double, finishing with 28 points on 9-for-15 shooting, 11 assists and 10 rebounds. Karl Malone did it at age 40 when he played for the Lakers; James turns 39 next month. In doing so, James passed Jason Kidd for No. 5 on the all-time triple-doubles list with 108. And he also went 3-for-7 on 3-pointers, passing Jason Terry for No. 8 on the all-time 3s list with 2,283.
The feats were moot for James, who recognized the spot the Lakers are in at 6-6, still missing expected rotation pieces in Jarred Vanderbilt and Gabe Vincent, with more challenges on the horizon.
"We have too many games that's coming up on top of us very soon and they're going to be flying," James said. "This is three in four nights. We play Friday. We play Sunday. We got a lot of games coming. You learn from some of the mistakes. You learn from some of the good things. But then you move on."
Davis assured reporters that when the team moves on to Portland on Friday, he will be back in the lineup, despite the hip discomfort he experienced against the Kings.
"I'll be fine," he said. "Yeah, I'll play. For sure."