This content contains affiliate links. When you buy through these links, we may earn an affiliate commission.
What are psychological safety books? According to Amy Edmondson, who coined the phrase "team psychological safety" and wrote one of the books below on the topic, it's an understanding that it's okay to express your ideas, ask questions, and admit mistakes without "the fear of negative consequences" in group settings like a family, a workplace, or a friend group. Improving psychological safety in a group can increase engagement, improve decision-making, and "foster a culture of continuous learning and improvement," according to Edmondson.
In a McKinsey article, social scientists believe psychological safety is a "prerequisite for people to be at their best in all aspects of life." Improving psychological safety doesn't just impact your workplace performance but also your personal life, too.
Unfortunately, this isn't a priority for many people in leadership roles or organizations as a whole. According to a McKinsey Global Survey conducted during the pandemic, psychological safety and the behaviors that promote it, like establishing a positive team climate or setting up leadership development programs to improve open dialogue, were limited at modern workplaces despite how important it seems to be.
If you're looking to learn more about the concept or make your workplace better in whatever way you can, read these eight psychological safety books to get started!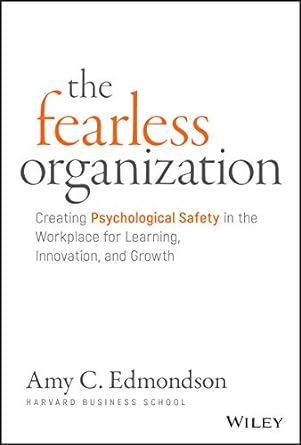 The Fearless Organization by Amy C. Edmondson
Full of examples of the consequences of organizations that have poor psychological safety practices, The Fearless Organization is a great starting point for those new to the concept. Edmondson provides a toolkit for building up psychological safety in workplaces for leaders, too.
Blameless Continuous Integration by Vivek Ganesan
Does your workplace make every mistake feel like the biggest crisis to ever happen? Does everything need a scapegoat to take the fall? Learn about the ways blame can impact your work and how to limit this in your own workplace in Blameless Continuous Integration.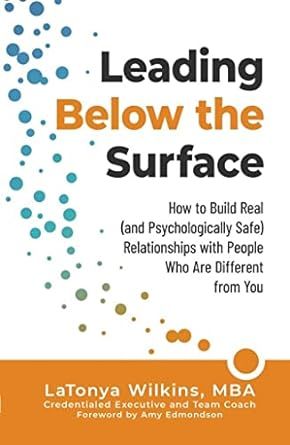 Leading Below the Surface by LaTonya Wilkins
Modern workplaces like to reward and promote behaviors that don't encourage psychological safety. Wilkins argues against this, reshifting the thinking of traditional leadership to encourage meaningful relationships with employees and include underrepresented identities. This one has great exercises for leaders at all levels to reflect and improve.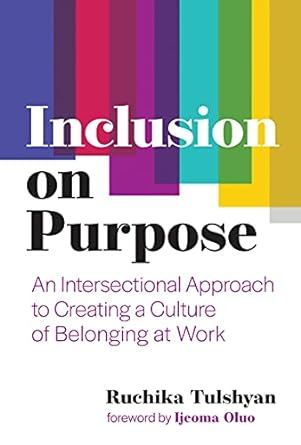 Inclusion on Purpose by Ruchika Tulshyan
Having an inclusion mindset is vital to improve psychological safety, whether as an individual or at an organizational level. Things like imposter syndrome are not an individual issue but an organizational one. Tulshyan discusses inclusive hiring, how to deliver feedback, and much more.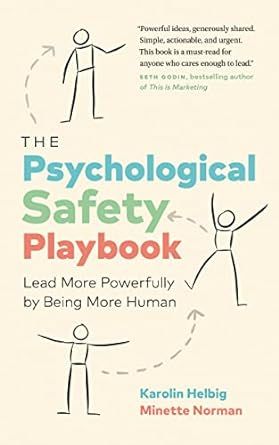 The Psychological Safety Playbook by Karolin Helbig and Minette Norman
No matter where you are in your professional journey, there's something in this for you. Helbig and Norman provide 25 tools anyone can use to improve psychological safety for themselves and others, like changing your verbiage, standard rules for meetings, and more.
Radical Candor by Kim Scott
Just because someone is a leader doesn't mean they have to be cold, harsh, and closed off. Scott advocates for leaders to use their kindness and compassion to break the typical leadership stereotype and help their employees succeed.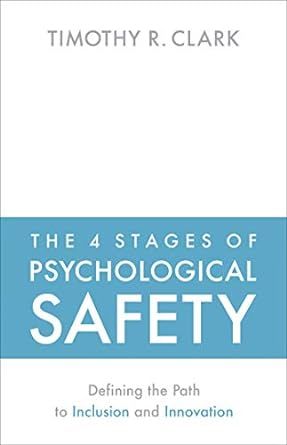 The 4 Stages of Psychological Safety by Timothy R. Clark
Timothy R. Clark is an organizational consultant with big-name companies and a social scientist. He breaks down psychological safety into four parts in this book: inclusion safety, learning safety, contribution safety, and challenging safety. All are essential to any workplace, family dynamic, and even relationship.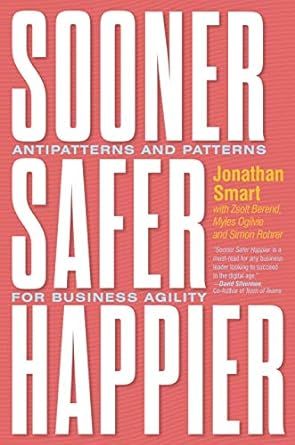 Sooner Safer Happier by Jonathan Smart
Why do some organizations survive while others fail, especially in the face of crisis? Smart breaks down the patterns of the companies that have succeeded and found psychological safety, servant leadership, and the ability to say no are all huge factors in the end result of a company.
---
I hope some of these psychological safety books can help you better understand the concept and how to implement it in your life. If you're in the mood for more psychological books, check out these 11 work-life balance books or these top management books.