The $0-annual-fee Dillard's credit card is an option for savings on apparel, cosmetics, home furnishings and other merchandise offered at the department store brand's more than 270 locations.
Frequent Dillard's shoppers can find value in using the card, but it falls short compared with general rewards credit cards. Still, it has a few features going for it, including a "Club Plan" that offers special financing, plus some general perks like cell phone protection.
Wells Fargo bank issues two different versions of the card: One can be used only with the retailer in stores and online, and the other can be used wherever American Express is accepted.
Here's what you need to know about the Dillard's credit card.
1. It has a modest introductory offer
As of this writing, when you open a Dillard's credit card you'll get a 10%-off shopping pass if you charge $100 on the same day. The shopping pass will be issued in your first statement as a bar code that can be used to make purchases in stores or online.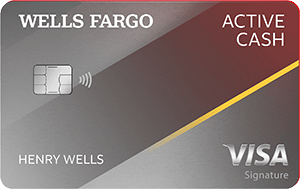 NerdWallet rating 
It's a modest discount next to those offered by some store credit cards — and compared with introductory offers on general rewards credit cards, it's bread crumbs.
With a good credit score of 690 or higher, a card like the $0-annual-fee Wells Fargo Active Cash® Card can offer a much richer sign-up offer: Earn a $200 cash rewards bonus after spending $500 in purchases in the first 3 months. Yes, that's a higher spending threshold to reach, but there's more time to earn it, and you're not bound to making purchases only with a specific retailer. Plus, the Wells Fargo Active Cash® Card earns 2% cash back on all purchases, and it also features an introductory offer: 0% intro APR on Purchases for 15 months and 0% intro APR on Balance Transfers 15 months from account opening on qualifying balance transfers, and then the ongoing APR of 20.24%, 25.24%, or 29.99% Variable APR.
2. The rewards lack value and have restrictions
Both versions of the Dillard's credit card earn 2 points per $1 spent at Dillard's, whether you shop in-store, online, through the catalog or by phone. The AmEx version also earns 2 points per $1 spent at gas stations and grocery stores in the U.S. and 1 point on everything else. Terms apply.
For every 1,500 points earned, you get a $10 rewards certificate or a 10%-off shopping pass — it's your choice. But selecting an option requires some effort. For instance, you'll have to call the customer service number on your statement or else the option defaults to a 10%-off shopping pass. Your selection remains intact unless you change it.
🤓Nerdy Tip
If you plan to spend more than $100 at Dillard's in the future, the shopping pass can offer more value. But if you don't need to spend much, you can choose the reward certificate option to apply it to a smaller purchase.
Depending on how much Dillard's shopping you do, you could bump up against restrictions. For example, you can earn only four rewards certificates or one shopping pass per billing cycle. And there are annual limits, too: You can't earn more than 48 rewards certificates or a dozen shopping passes per calendar year.
On top of that, rewards that aren't used will expire at the end of the 12th month after they're earned.
These are a lot of factors to stay on top of as a cardholder.
NerdWallet rating 
If you prefer a simpler approach to rewards, without limits, consider whether you might qualify for a credit card that earns a flat 2% cash back everywhere. With good credit, you can look into an option like the Citi Double Cash® Card, which earns 1% when you buy and 1% when you pay it off. That's much more valuable than the sixth-tenths-of-a-cent per point offered if you select the $10 rewards certificate on the Dillard's credit card.
Rewards with the Citi Double Cash® Card are issued as ThankYou Points and can be redeemed for cash back in the form of statement credit, a direct deposit into a bank account, or a check. The rewards rate is higher than the six-tenth-of-a-cent per point offered if you select the $10 rewards certificate on the Dillard's Credit Card.
With a fair credit score ranging between 630 and 689, consider a card like the $0-annual-fee Upgrade Cash Rewards Visa®. It earns an unlimited 1.5% cash back on purchases every time you make a payment.
3. Elite status is possible if you spend enough
As a cardholder, you'll be in either the "Classic" or "Elite" status tier. To move from the former to the latter, you'll have to charge $2,000 or more each calendar year with the card.
Elite status provides exclusive bonus point offers, complimentary gift wrapping and standard shipping. With your newfound status, you'll also receive an upgraded Elite version of the card in the mail, but you'll have to continue to maintain purchases of $2,000 or more per year to retain Elite benefits. While these perks are nice to have, they likely aren't worth going out of your way to meet a spending requirement, unless you can do so on purchases you were planning to make anyway.
Classic status doesn't have a spending requirement, and it still offers some incentives like special offers at Dillard's, cell phone protection, access to presale tickets for events and special financing.
4. Special financing offers are available
On occasion, purchases like men's tailored clothing, home furnishings, furniture and luggage may qualify for special financing under the retailer's "Club Plan." There are two types of Club Plans that can apply to either version of the card: a 12-month offer for qualifying purchases of $200 or more, and a 24-month offer for purchases of $2,500 or more.
Unlike the strings that come with deferred-interest offers commonly found on store credit cards, this option has a built-in payment requirement to encourage paying it down in full during the promotional period. If you don't finish paying off the financed purchase within the window provided, the ongoing interest rate will begin to apply, but only on your remaining balance. (This differs from a deferred-interest offer, which would charge you interest on the full amount of your purchase retroactive to the purchase date if you failed to pay off the balance in full before the promotional window ended.)
Still, if possible, aim to pay off the balance within the promotional period because that ongoing interest rate is expensive.
5. The ongoing interest rate runs high
As of October 2023, the Dillard's credit card has an APR north of 30%. An interest rate like this could trap you in a debt cycle for years to come, especially if you make only minimum payments. For comparison, the interest rate on the Dillard's credit card is much higher than the 22.77% average rate for credit cards assessed interest as of August 2023, according to data from the Federal Reserve.
If you tend to carry a balance, you'll save more money with a credit card that offers a low ongoing interest rate — even if it doesn't offer rewards. These kinds of credit cards are typically reserved for those with good credit scores and can often be found at credit unions.